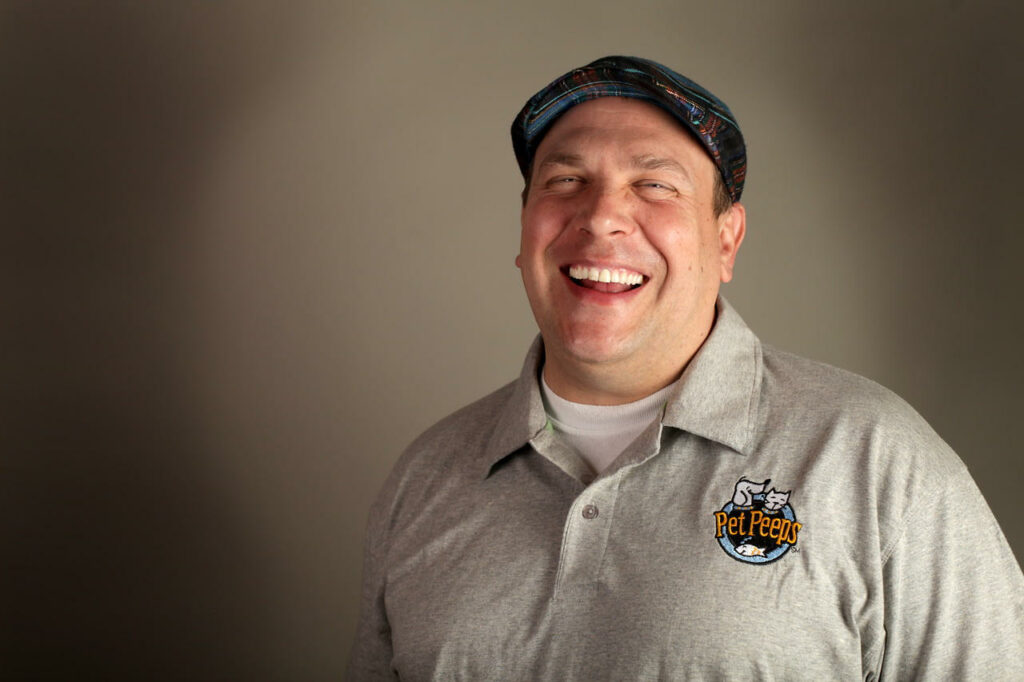 Gus Elfving is the owner of Pet Peeps, one of Washington D.C.'s top pet care companies. Gus started his business in 2006 and has worked tirelessly to raise the standards of professionalism in the pet care industry. He has served on several committees for the National Association of Professional Pet Sitters and is the immediate past President and former Vice President of the National Capital Area Professional Pet Sitters Association. He also supports several other communities and organizations. Starting a business can be a pretty daunting time for a lot of people, especially if they started it as a work-from-home project (https://techshali.com/top-ways-to-earn-money-from-your-home-in-2022/), so it is great to see people thrive in a business they care about and work their way up.
Growing up Gus never imagined he'd be running one of D.C.'s top dog walking companies, but he's never had any shortage of entrepreneurial spirit! He's come quite a long way from a childhood of selling homemade baked goods out in the countryside in Oklahoma. Later on in his 20's he had a part time handyman business to help make ends meet. Gus found himself in D.C. during his military career and after leaving the service he attended college and worked several odd jobs. He had a friend who worked for a new local dog walking service and decided he'd try his hand at that as well. After working with that company for several years he decided to branch out and start his own business. He may not have intended to start a pet care service, but when an acquaintance started giving out his number as a professional dog walker he decided to run with it and turn it into one of the best pet care companies in D.C. 
Listen in as Gus takes you way back to the very beginning of his business. You'll hear about the obstacles, successes, and hard won wisdom that comes with starting a business. He's come a long way since walking his first dog to having a booming team of 20 team members who serve over 500 clients. He's been very intentional from the very beginning of creating his business realizing he wouldn't be able to grow his company or get ahead if he spent all his time walking dogs in place of finding new clients and learning how to improve the business. Within less than a year of opening Pet Peeps he already had his first hire under his belt and was excitedly looking to the future with big plans. 
Gus really opens up and shares his story on struggling with burnout over the years. As a small business owner you have to wear many hats and work hard to keep things going. This is a high burnout industry, and some pet care professionals struggle with finding their joy. It's so important to protect your time, sanity, and spirit from burnout by setting up boundaries with your team and clients. You're not alone, we've all been there, just keep moving forward and keep putting those sanity saving systems in place. Using modern software, hiring administrative personnel, and making sure you have an amazing team in place is so important for staying positive and successful. Gus suggests networking with other local businesses to create a team that support one another and help one another through problems. Oftentimes,  someone you know has experienced the same pain point you're experiencing and has already solved it. In other words… work smarter, not harder. 
In this episode, you'll listen in as Gus explains his thoughts on what went through his mind when bringing on his first hire. He also explains his reasoning for building a client base bigger than he could service by himself. Gus also shares how to find quality hires, how to keep them, and how to organize all the paperwork that comes with hiring.  
In this episode you'll learn: 
How Gus went from trial by fire to really digging in and becoming an expert in his field

Clever ways to think about your branding 

When it's time to hire and how to do it

The debate: Employees or contractors?

How to find and keep stellar team members 

How to find hires online 

How to avoid burnout 

How to do business in this new on demand society 

How to network with other local small business owners 

The rewards that come with owning your own business 
Podcast Show Notes and Recommendations:
Hiring Platforms
Hiring Platforms to Find College Students
Bulletin boards on campus
HR, Payroll and Bookkeeping Resources 
Small Business Phone Management System
Pet Care Associations
Book Recommendation
Marketing to the Entitled Consumer 
To learn more about Gus Elfving visit petpeeps.biz.
You can listen to this episode by clicking on the SoundCloud player below or you can find the Handling Business Podcast in Google Play or Apple Podcasts. 
Are you a fan of our podcast? We would love to hear from you! If you would like to be a guest on our podcast, drop us a line at [email protected].